Space Sextics from Intersections of Quadrics and Cubics¶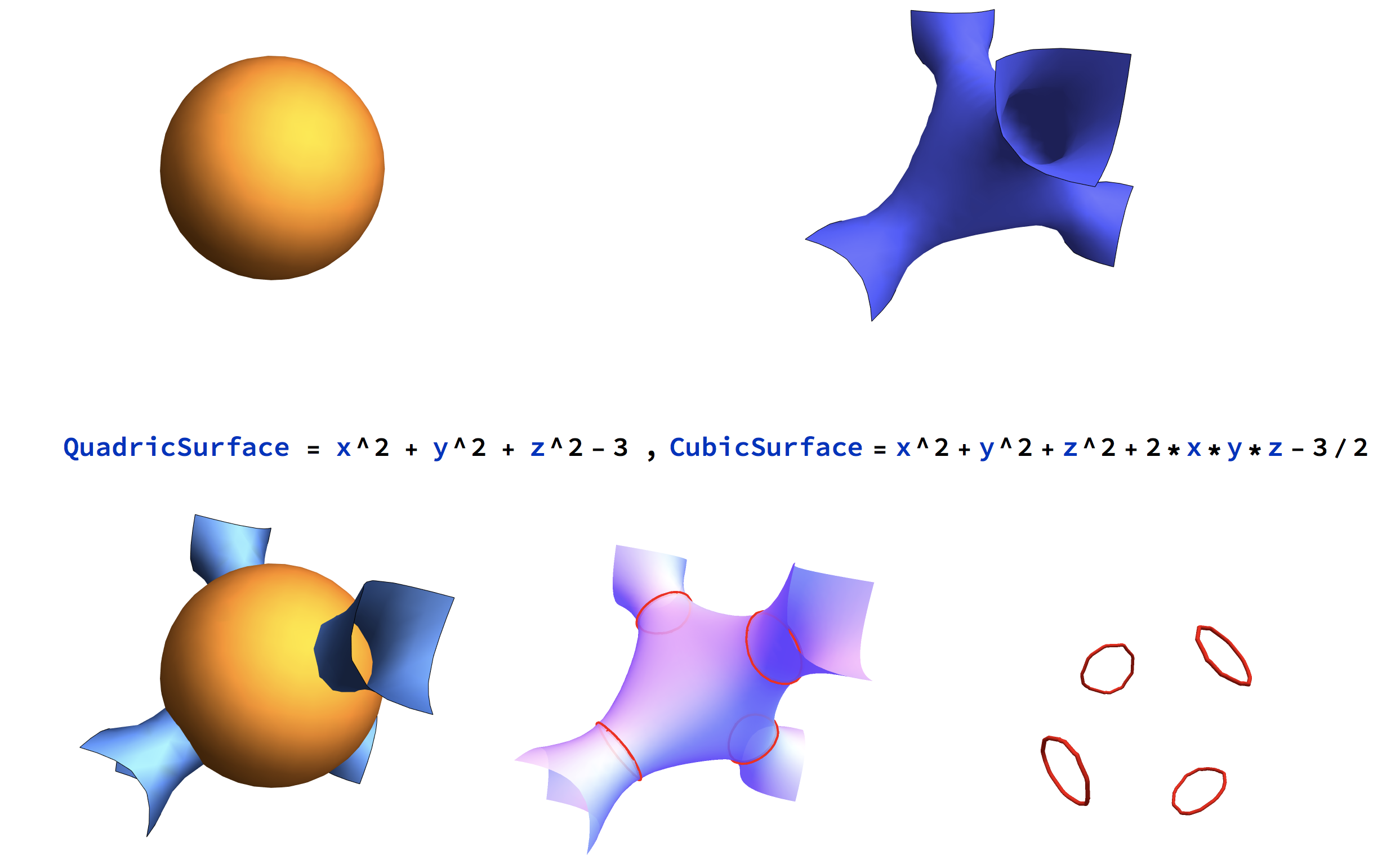 A generic sextic is the intersection of a quadric and a cubic surface. Given a quadric \(Q=V(f)\) and a cubic \(K=V(g)\), \(f,g\in\mathbb C[x_0,\ldots,x_3]\), we will now construct and solve the tritangent ideal, an ideal in \(\mathbb C[u_0,\ldots,u_3]\) whose solutions are all planes \(H=V(u_0x_0+\ldots+u_3x_3)\) that are tritangent to the space sextic \(C=Q\cap K\).
The magma script can be downloaded here. It begins with defining:
the base field K, which has to be either the rational numbers of an algebraic extension thereof, over which \(f\) and \(g\) are defined,

a field CC of complex numbers with fixed high precision over which the tritangents are computed numerically,

a field CCout of complex numbers with fixed low precision over which the solutions are returned.
What follows is split up in three parts
Visualizing space sextics and their tritangents¶
This mathematica notebook takes
a space sextic, in form of a quadric and a cubic,

its real tritangents \((u_0,u_1,u_2,u_3)\) as previously computed,
and
distinguishes between totally real tritangents and tritangents with non real intersection points,

visualizes both types of tritangents seperately.
By default, it contains Emch's curve and its 120 real tritangents computed through the previous magma script. (Note that the number of tritangents per visualization grid should not exceed 50 for sake of stability.)